Here is an email I received recently from a customer that was nice enough to send me some photos of his project.
Hi Matt,
I thought that I'd update you on my progress.  I've finished the Lift portion of the project and I've got it in service under my 1955 Packard.  This is a huge car and the lift seem's to handle it with ease.  I am planning on adding the hoops to roll the body over, but I want to fix the body mounts before I attempt that.  When the hoops are built, I plan on rhino lining the entire under side of the body as well as the interior.  Easy to do when you own the rhino shop 🙂  check us out at rhinoliningsmidwest.com
I just wanted to say thanks for the help and for the great plans.
I've included some pictures of some of my build and the finished product.  Feel free to use them on your website if you would like.
Thanks again,
Keegan Chaput
Here is another customer's project.
Hi Matt, A couple of pix of the Rotesserie I built from the plans I bought from you. After I got the steel home it took my son and I two days to cut it, weld it and get his car on it. Really glad I got your plans. Dave
Another email I received:
Wanted to drop a note.. The plans were well worth the price.. Took me about two weeks part-time, but I built the Rotisserie, for less than half of a boughten  Rotisserie.. Rotisserie is extremely durable with 3/16″ steel.. I modified a couple of things, but want an excellent tool I now have for a fraction of the price.. I did purchase two 3 ton rams, to make the lifting and lowering a little smoother.. Thanks for the great plans and conception.. Will definitely encourage anyone to purchase this plan or others.. Thanks, MK UT
Here is the follow up to Keegan's project.
Matt,
Thanks for your help!  I finished the hoops today and shot a couple photos with my phone.  I'm excited to get back to work on my car again.
My buddy is talking about buying a trailer.  I told him I knew where to get some killer plans to build one instead.
Hope everything is going well, and thanks again for the great plans and service.
Keegan Chaput
This is from another email I received:
Matt, I got your plans for the rotisserie some time back. I've since went on to build it and it was the best 12.00 bucks I spent. My 60′ el camino is mounted on it as I send this.It works great! One item I did deviate on was the 3″ sch.80 pipe. Could'nt find any remnents, so I used sch.40. It does make a little difference, as far as the spinning goes, still it works good. I want to send you some pictures, as soon as I figure out how to! Thanks much for the plans, very easy to go by. Take care, Steve Stillwell, Simi Valley, Ca.
Matt, here's a couple of pictures on your rotisserie, I'm afraid they don't do it justice mainly because I haven't painted it yet. A few of my buddies, fellow car guys like the design of the rotisserie and its ease of use. My kids and I are going to video tape it in use tomorrow, I'll send you the results. Again thank you for the plans, its definatley going to help in the restoration of my el camino.
Take care, Steve Stillwell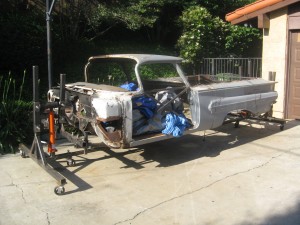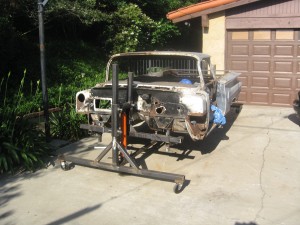 If you would like to send pictures or a story, I would be happy to put them on this page as well along with a link to your website if you have one.
Thanks, Matt