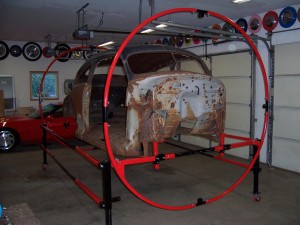 Back in 2005 my father and I came up with a body lift and roller system that would allow one person to separate a car body from it's frame. With a standard rotisserie the biggest problem we saw was how to get the body onto the rotisserie with out having 4 guys come over to manually lift it. An even bigger problem we saw was, after you completely restored your car body (fresh paint and all) how were you going to put it back on the frame?
Here are some of the benefits:
Fully adjustable for any sized car including truck cabs
Can be used as a body cart for portability
Can be made to fit under an 8′ ceiling
Legs are telescoping for easy height adjustment
Universal to fit any type or model of car
Can be operated with minimal shop tools(9/16″, 3/4″, 11/8″ sockets)
Has a capacity of 1500 pounds
Body cart can be used with a standard auto rotisserie
Firewall and trunk are completely accessible
Breaks down for easy storage
Will adjust from 5′ to 8′ wide
Will adjust from 6′ to 12′ long
Will adjust from 24″ to 39″ high
Capable of raising bodies as low as 10″ from the ground
The body lift & roller plans are 50 pages of easy to follow blueprints that are based on common sense and not engineering jargon. There is more than enough information on the drawings to successfully build a complete body lift and roller.
The capacity drawn is for 1500 lbs. If you have the skills to restore a car, you have more than enough skill to build this body lift. Every part is clearly drawn and dimensioned in 4 views including a pictorial view for clarity. The blueprints also come with building notes and a full material and cut list.