Do You Want to Build a Custom Auto Rotisserie From Scratch—
The Easy Way?
You're going to love this…
My name is Matt Kline and I have built MANY custom auto rotisseries over the years. You could say I am a master at it, but it did not come easy…
What I did is take all the years of bad designs, wasting too many hours, spending too much money, and packed the best of the best into a 36 page eBook.
I trimmed all the fat and give you just the red meat in these auto rotisserie plans.
If you're a hands-on do-it-yourselfer like I am, you would much rather custom build your car rotisserie. (And why pay $1200 – $1,700 for a new one?)
Not only will you have your own handmade bad-ass rotisserie, you get the bragging rights when your buddies are over.
My detailed and easy to follow car rotisserie plans include:
Plain talk – No technical mumbo-jumbo.
Customizing options – Build it to your specific needs.
Plenty strong – Drawn to build a car rotisserie that can handle 3000 lbs.
Four views – To allow you to see it from all angles.
Full materials list – Just take this list, buy the stuff and build it!
You can build a $1,700 auto rotisserie yourself for only $600 – $800, saving you up to $900 and you have something you built.
Oh, by the way, everything on this website is 100% FREE!

That's right, I said free. I won't even ask you for your email address. (I'm not even sure what people do with email addresses anyway).
This is my little project of "paying it forward" and giving back to an industry that has been very good to me in the past. Please feel free to let anyone and everyone know about these plans and this website.
The PDF file is 100% safe and you have my word on it. (And also my contact info)
Thanks, Matt
Also check out my Body Lift & Roller Plans.
It's a completely different take on an auto rotisserie, but with some added benefits that were unavailable until now.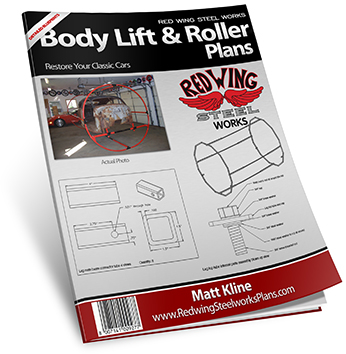 Need to build a trailer? Come on over to my other website for a couple free sets of utility trailer plans right here.